About Justin Okrepki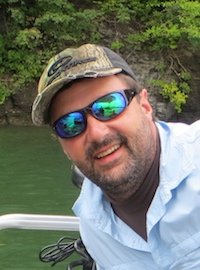 I am a NYSDEC licensed guide, #7324. My passion is teaching fishing, respect for the outdoors, and passing on my knowledge to the next generation. While I may be new to the business of guiding, I have been taking people fishing and hunting my whole life. It is my goal for every client to learn some new techniques, to leave with a greater understanding of the fish and the fishery, and land some quality Otisco Lake fish. While there are no guarantees in fishing, I can tell you nobody puts more time and effort into fishing Otisco Lake from May through October than I do! I specialize in walleye and tiger musky fishing using a variety of techniques from fly fishing to trolling. We also target brown trout, bass, and crappie.
Due to the abundant alewives, walleye in Otisco Lake are well-fed and grow quickly. Most walleye caught here are larger than the minumum 18" and can exceed 10 lbs.

Otisco Lake is managed as a trophy tiger musky fishery, with a minimum size of 36". Large numbers of alewives lead to healthy and fast-growing tiger muskies.

Enjoy a beautiful day sightseeing on Otisco lake while relaxing in comfort. A great way to spend a summer day!